VIRGINIA — **UPDATE** ABC News says it received a 20+ page document via fax machine yesterday from someone named Bryce Williams. Those documents have been turned over to the FBI.
According to ABC, the gunman, 41-year-old Vester Lee Flanagan, aka Bryce Williams said in the fax that he snapped after the Charleston Church shooting.
Flanagan wrote in the manifesto: "Why did I do it? I put down a deposit for a gun on 6/19/15. The Church shooting in Charleston happened on 6/17/15…" … "What sent me over the top was the church shooting. And my hollow point bullets have the victims' initials on them." .. "As for Dylann Roof? You (deleted)! You want a race war (deleted)? BRING IT THEN YOU WHITE …(deleted).." …
The gunman also praised the Columbine Shooting and Virginia Tech gunman Seung Hui Cho:
"Also, I was influenced by Seung–Hui Cho. That's my boy right there. He got NEARLY double the amount that Eric Harris and Dylann Klebold got…just sayin'…. "Yes, it will sound like I am angry…I am. And I have every right to be. But when I leave this Earth, the only emotion I want to feel is peace…."
"The church shooting was the tipping point…but my anger has been building steadily…I've been a human powder keg for a while…just waiting to go BOOM!!!!".
The ABC report goes on to say he claimed to be discriminated against for being a gay black man. Developing.
---
(Scroll down for video) — Two people are dead after a former disgruntled employee opened fired on three people during a live television broadcast on WDBJ Wednesday morning.
Part of the incident was caught on video during the morning broadcast.
WDBJ7 TV reporter Alison Parker, 24, and cameraman Adam Ward, 27, were killed during an interview in Moneta, Bedford County, the TV station said.
The gunman, 41-year-old Vester Lee Flanagan, aka Bryce Williams, also apparently recorded the shooting himself with a 'Go-Pro' camera and posted the footage to social media.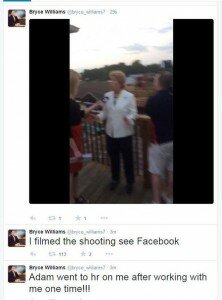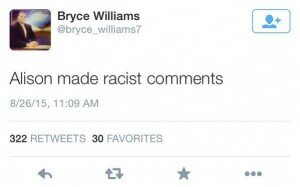 Facebook and Twitter suspended the accounts shortly after the uploads.
Shortly before 11:30 a.m., Virginia State Police spotted the suspect vehicle headed eastbound on Interstate 66. With emergency lights activated the trooper initiated a traffic stop on the suspect vehicle.
The suspect vehicle refused to stop and sped away from the trooper.
Minutes later, the suspect vehicle ran off the road and crashed. The troopers approached the vehicle and found the male driver suffering from a gunshot wound. He is being transported to a nearby hospital for treatment of life-threatening injuries.
The woman who was being interviewed, Vicki Gardner, is in stable condition after undergoing emergency surgery.
The gunman worked at WDBJ, which he joined in 2012, according to an industry website. He worked previously for other television stations in North Carolina, Florida and Georgia.
He left in 2013 according to his own LinkedIn account, which also listed several positions in customer service and a undergraduate degree in broadcast media from San Francisco State University.
Flanagan filed a lawsuit against WDBJ, alleging discrimination by the whole station, naming most of the staff of his complaint.
The case was dismissed by a judge in July 2014.
[Editor's Note: NewsWatch33.com chooses to give it's readers access to all available content as it relates to breaking news and major world events. Watch at your own risk!]
The post Va. Gunman Said Killings Were In Reaction To Charleston Church Shooting appeared first on NewsWatch33.