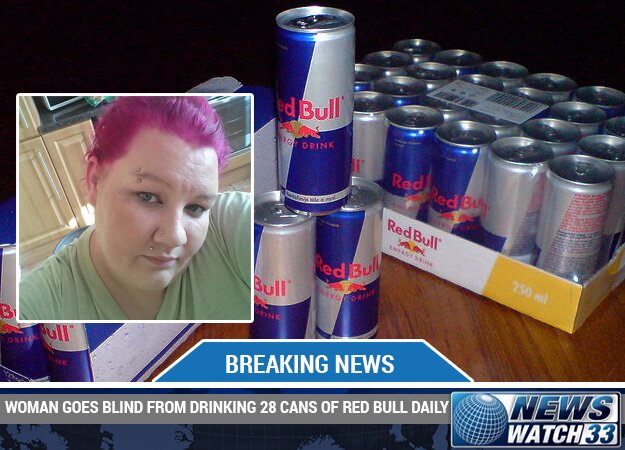 NEWSWATCH33 – 28 cans of Red Bull a day has caused the Newtownabbey, Northern Irish 26-year-old unemployed mother-of-three to gain so much weight that her brain has literally swollen inside her skull, giving her much more severe health problems to worry about than obesity and a caffeine addiction.
Lupari first became aware of her health condition when she collapsed in June and doctors subsequently diagnosed her with Idiopathic intracranial hypertension, a direct result of being overweight… which is a direct result of drinking 7 litres of Red Bull everyday.
Lupari's addiction to the energy drink was so intense that she was spending more than $10,000 of her annual benefits on Red Bull.
"I used to drink 28 cans of Red Bull in a day and I'd only have a meal at night but it would usually be something fast-food like a takeaway or a packet of pasta," she told Daily Mail UK.
"I've got three young children, one with special needs, and didn't have time to make anything. I'd been suffering from migraines and headaches for about five years but I just ignored them and took painkillers."
"Then my vision went and I couldn't even lift my head off the bed and I ended up in hospital for six days."
Since her hospitalization on June 18, Ms. Lupari has cut out Red Bull cold turkey and already lost 12 of the 44 kilograms doctors say she needs to shed before the symptoms of her condition will begin to subside.
She says she will need plenty of help losing the 30% of her bodyweight still required to reclaim her health.
"I don't want a gastric band or surgery but I think they should offer help for someone with this and to motivate them – something like a boot camp," she suggested. "Losing the weight doesn't mean it will go away forever but it means I won't need surgery."
[VIA]