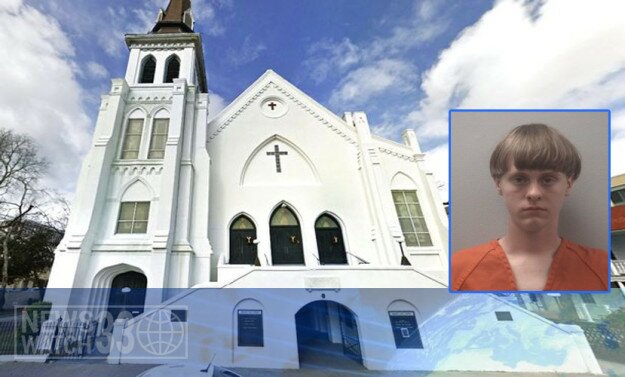 Charleston, South Carolina – Before Dylann Roof opened fire on members attending a Bible study group at a church in Charleston, South Carolina, Dylann Roof was a member among the victims of this horrible incident. Not only did he sit with them prior to the shooting, he might have prayed with them as well.
A member of the church where the incident took place provided a Snapchat video from Wednesday night at the historic African-American church which depicts Roof sitting at a table with the small group. Unfortunately, the video doesn't show any motive or action that lead up to the horrific incident.
According to authorities, Roof shot and killed nine members of the historic Emanuel African Methodist Episcopal Church, in the center of Charleston's tourism district. Reports declared Eight died at the scene and the ninth died at a hospital. Not only did this gruesome tragedy baffle police at the time because of an unknown motive, it made it more horrific that an incident like this would happen in a house of religious worship.
"People in prayer Wednesday evening. A ritual, a coming together, praying, worshiping God. An awful person to come in and shoot them is inexplicable," said Charleston Mayor Joe Riley.
According to new reports, Roof is claiming that the victims of the shooting asked him to do it. "The nine victims wanted to leave this earth which has been consumed by the devil", according to a statement made by Roof to authorities. "They believed that they had done their job of spreading the gospel and they no longer wanted to live in this sinful world"
An investigation is pending to determine the motive of the shooting while the suspect is in custody.
While it is unclear if this was the true motive for Roof's actions, one thing remains clear, this is a tragedy that the people of Charleston will never forget.