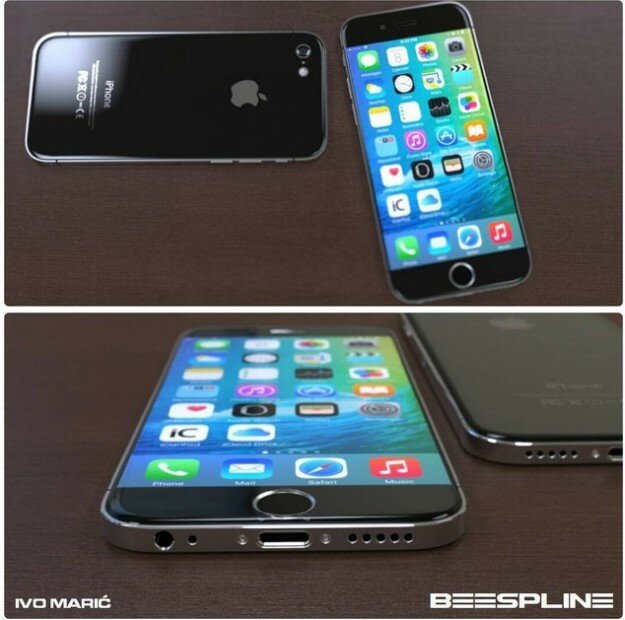 Sapphire glass
Particularly notable in this iPhone 7 concept is its sapphire glass front. This is an element of the iPhone series that has been rumored for some time, and evidently these two designers believe that it will finally come to fruition with the iPhone 7. This would clearly make sense for Apple, as it has been reported for some years that the company has bought up industrial quantities of this substance. Additionally, Apple has already utilized sapphire glass in the construction of its recent Apple Watch smartwatch.
Aside from the sapphire glass element of the smart phone, Maric and Rastovac also believe that Apple could produced a glass-backed device for the iPhone 7. There is also a nifty metal frame encompassing the whole device, and in its totality the design creates a striking image. Apple is, of course, known for its outstanding design parameters, and the corporation would doubtless be impressed by the way that the glass and metal blends neatly within this concept image.
However, it is noticeable that the concept does not include any aluminum, which would seem to make the concept somewhat unlikely overall. An iPhone 7 featuring an entirely metal and glass construction may certainly appear attractive, but one also has to think of the practicalities of such a design. Such a build would be extremely fragile, and it seems extremely unlikely that Apple would opt for such a design considering the headlines that it inadvertently generated with the iPhone 6 and the infamous Bendgate scandal.
Indeed, one of the most widely rumored aspects of the iPhone 7 is that it will include a revolutionary new form of aluminum that was introduced in the Apple Watch, precisely with the intention of avoiding similar headlines this time out.
Other features imagined by the Croatian pair include a new Apple Dock for wireless charging and wireless transfers, an A10 processor, a 16-megapixel camera, and a quad HD Retina display. The introduction of a quad HD display will certainly make Apple fans sit up and pay attention, even if there has obviously been no confirmation from Apple at the time of writing.
A possible criticism of the iPhone range recently has been that the display included in the iconic device has fallen somewhat behind its most notable competitors. Samsung Electronics Co., Ltd. (LON:BC94) is the most obvious rival to Apple, and it has focused on including high quality displays in its mobile devices recently, and there is hope from the Apple-following community that Apple will follow suit with the iPhone 7.
[SCROLL DOWN & CLICK NEXT PAGE TO CONTINUE READING]