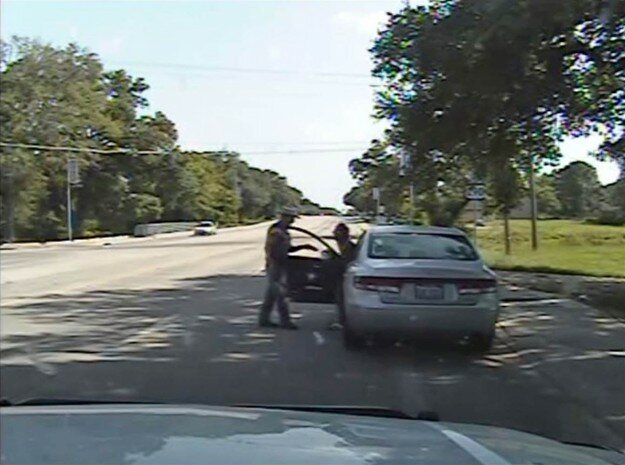 WALLER COUNTY, TEXAS (NEWSWATCH33) – The Department of Public Safety Tuesday released dashcam video of a traffic stop involving Sandra Bland.
She was pulled over by DPS trooper Brian Encinia on July 10 for failure to signal a turn. The trooper initially told Bland he was giving her a warning. She was arrested after becoming combative when Encinia ordered her to get out of the car.
"Get out of the car! I will light you up!" Encinia said at one point.
Bland eventually got out of the car. She was handcuffed and put on the ground after Encinia said she continued to fight with him.
The trooper said in an affidavit that Bland also kicked him in the shin.
Video Below:
Bland was found dead in her jail cell three days later. The death was ruled a suicide by hanging.
Bland's death is being investigated by the FBI and Texas Rangers.
"DPS has been working closely with the family of Ms. Bland during this investigation, and the department extends our sincere condolences for their tragic loss," said DPS Director Steven McCraw. "It is important that her family has confidence in the efficacy of this investigation, which is why the Waller County Sheriff's Office and District Attorney originally requested investigative assistance from the Texas Rangers; and it's also why DPS requested the FBI assist in this investigation."
"This team of investigators is committed to conducting a throrough and impartial investigation. When the Texas Rangers and FBI investigation is complete, it will be turned over for review by the District Attorney, who has indicated it will also be brought before a grand jury," said Director McCraw.
Trooper Encinia was put on desk duty for violating departmental procedures.
[Via KHOU]